Giving texture to your bangs
Getting some volume and texture into your bangs is as easy as 1-2-3. Separate your bangs into tiny sections, spritz on some volume spray and blow-dry while scrunching the hair.
A straight part every time without the wobble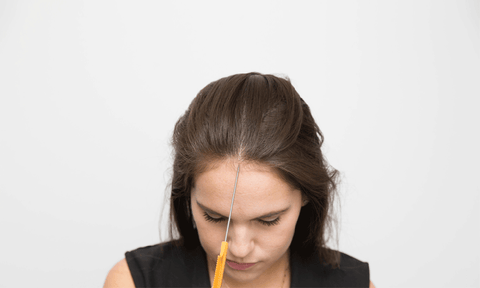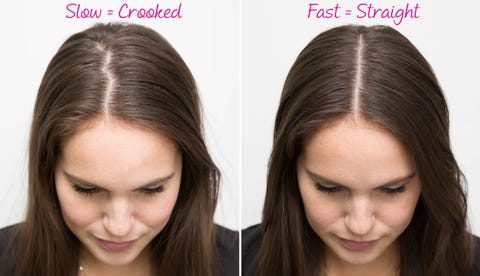 To get a good straight part be sure to move the comb super-quickly. Pull it from the hairline to the crown. If you aren't fast enough your part will be wobbly.
Use a flatiron to soften curls
If you are blessed with really curly hair and you want to tone it down a little it is easy to create a soft wave using a flat iron. Just apply the iron and bend your wrist slighting forward and back as you move it down the hair.
Four simple steps to change from a side to a middle part
To change your side part to a center part (or vice versa) you can do this easily: First, wet your hair at your part, then create the new part and wet that too. The water will break the hold of the original and help set the new part. To keep it in place dry it off with a blow-dryer.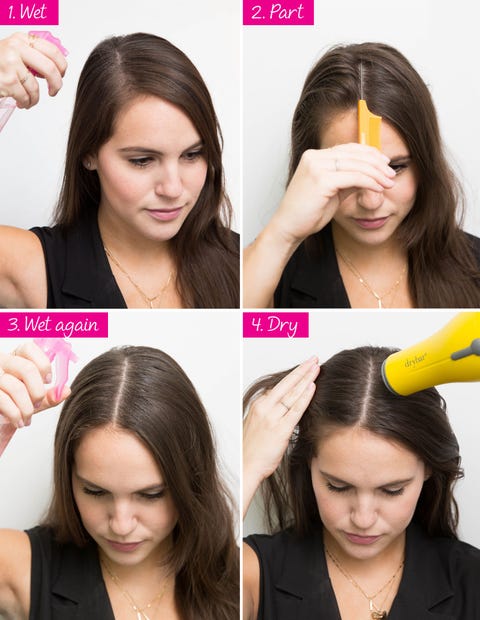 Get creative with a curling wand to create super-chic waves
The key here is to use the wand horizontally. Taking a 1" section of hair place the wand in the middle of the strand and then twist and wrap as normal – just be sure to keep the iron horizontal and not vertical. When you release your hair it will fall into a loose wave. For tighter curls and spirals keep the wand vertical.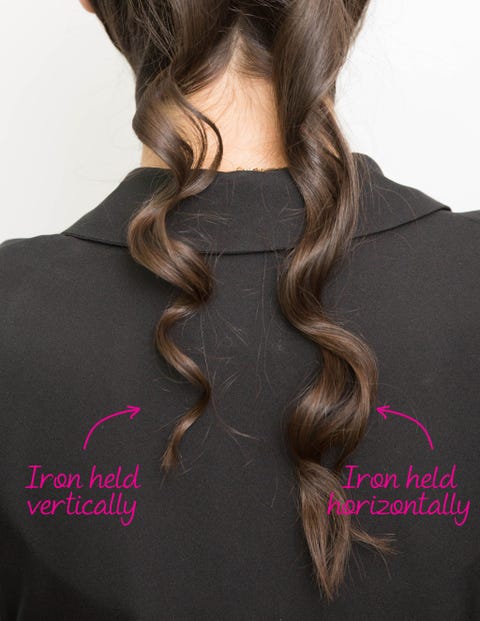 Make your styling mousse easier to use and last longer with a spray bottle
If you place your favorite mouse into a spray bottle you remove the air so the product will become more liquid. It lasts longer, it is easier to apply and it still gives you the same amazing volume.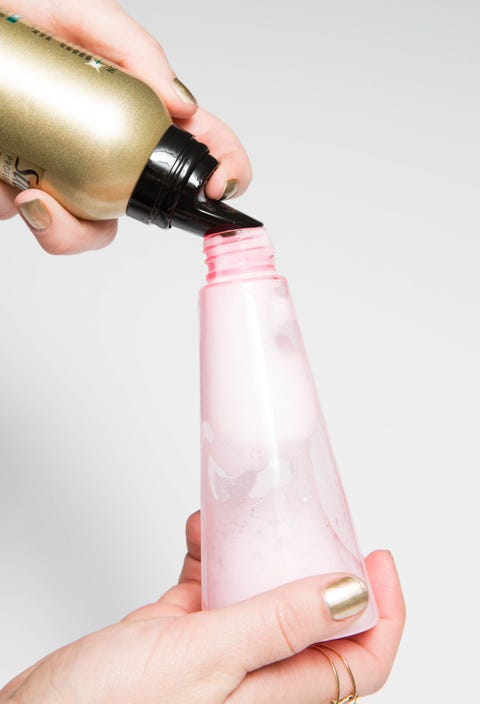 Grab hair when styling to create the slept-in look.
If you are styling your hair and you want that bed-head look then scrunch your hair instead of using your fingers to rake the hair. Apply your texturizing spray and then grab chunks of hair as if you are crabbing pieces of rope.
Tying your hair in two ponytails keeps your low bun tight all day.
Instead of making one ponytail make two pigtails close together right in the middle of the back of your head. Wrap the ends around each other to make the bun and secure.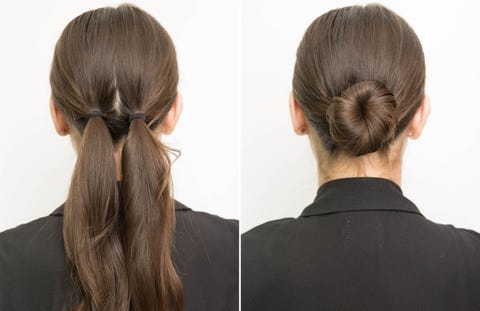 No-make up look lipstick
Choosing a matte lipstick close to your natural color gives a great daytime look. To dress it up for night time just use the gloss version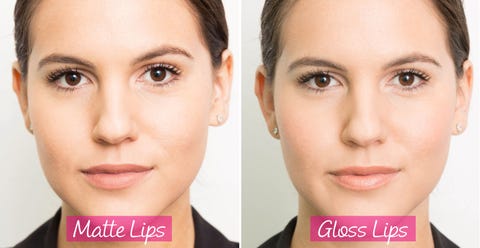 No make-up look for eyes – use liner on your lashes.
To create a natural no-makeup look use a liquid liner pen to tint your lashes. Hold the liner vertically and using it like a windshield wiper color the lashes.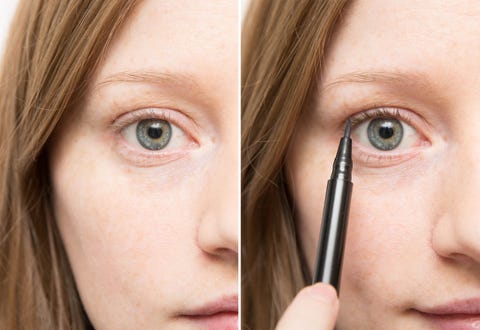 Easy symmetry for your cat-eye
To get your cat-eye perfect every time you just need to mark the ends before you line. Figure out exactly where you want the ends and mark them with a dot. Next, draw a line from the dot to your liner at the lash line. The angle will be perfect every time.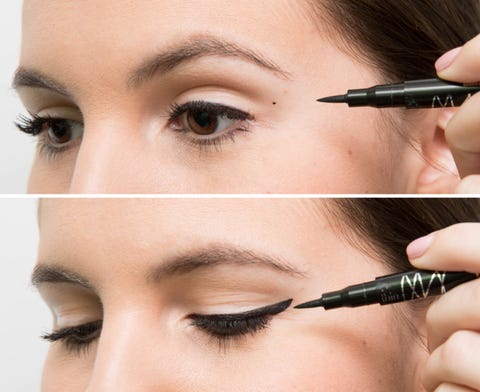 The smokey eye look with no effort
This is an easy three-step technique that anyone can use. You will need to line your eyes with a kohl liner and then smudge it using your fingertip. You will see that there is some residue there so take a cotton swab. Dip the swab in moisturizer, remove the residue and voila! A great look with a subtle sheen.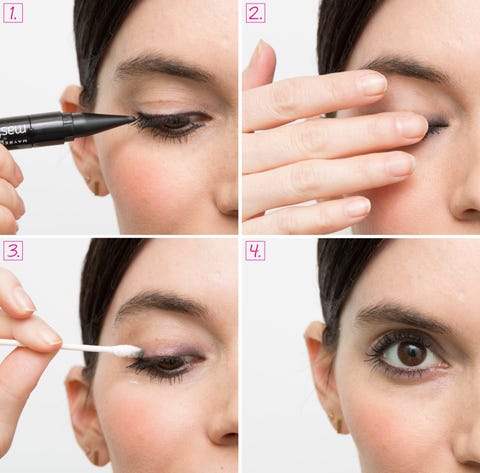 Lighting tests
Overhead lighting casts a shadow meaning that even the most carefully applied make up may end up looking completely different in different types of light. Using the flashlight on your cell phone while looking in the mirror gives you a different perspective on your look.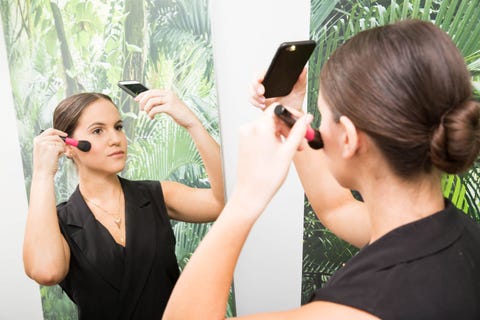 Salves can soften eye shadow
This tip is especially useful where you want to avoid a harsh look. Once you have applied your makeup just use a cotton swab and salve to blend the shadow. All the harsh lines will be gone and the look will be more subtle.
Rose spray spritzing for flawless foundation.
After you have applied your moisturizer and before you apply foundation, lock in the moisture with a quick spritz of rose water spray. Your skin will thank you for it and your foundation will be flawless.