If your hair could do with some TLC there is no need to splash out on an expensive salon when you can take advantage of these 10 hair treatments that you can make yourself at home.
We all have days when our hair looks dull, it doesn't matter what time of year it is or what type of hair you have. In the summer months, we love to swim and enjoy the sun which sadly also damages our hair and makes it dry. In the winter the cold, dry air also plays havoc with our locks. Whatever the reason, you can be sure that eventually, we all need a revitalizing treatment.
You may think that the only option is expensive salon treatments – nothing could be further from the truth! There are some simple, easy (and much cheaper) options for your hair that you can make for yourself in your kitchen!
You will probably already have all the ingredients sitting in your cupboard, just take a look in your fridge for avocado, eggs, butter and yogurt. All of these are great to make a treatment to help your damaged hair. We are here to tell you how.
Shine Brightly with Tea
Many of us love a nice cup of tea to give us some verve during the day. As it happens, tea can also bring back some shine to your hair. Black tea is well known to increase the glossiness of hair, leaving it looking healthy and revitalized. If you are a tea-drinker already this is going to be the easiest thing to add to your hair care regime. Another plus is that black tea is rumored to help with curl loss.
How to make it: Just brew some Black tea and let it cool. Pour the tea onto your hair, sit back and relax. Wash the tea away after 10 minutes and take a look at your beautifully shiny hair.
Butter it up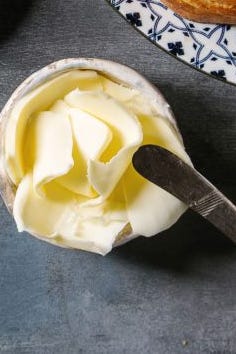 Butter is not only delicious to eat it is also a great hair treatment and can add some much-needed moisture if your locks are looking less than luscious. This treatment is well known around the world. In hot countries like Ethiopia, similar treatments are used to protect the hair from the sun and its rich, creamy texture is known to enhance the texture of curly hair.
How to make it: Make sure that the butter is at room temperature and take 2-3 spoonfuls to rub into your hair. Pop on a shower cap and then relax for an hour before washing your hair as normal. Then enjoy the soft, silky shine.
Add bounce with bananas.
Bananas are certainly a healthy choice in our diet but they also make great hair masks. Silica, a mineral that helps synthesize collagen, it found in abundance in bananas and it is collagen that helps keep your hair thick and strong. It is said that a hair mask made from bananas will not only put moisture back into dry hair but also give relief if you suffer from a dry or itchy scalp.
How to make it: Take 2 bananas and blend with half a cup of coconut milk. Make sure you cover your hair completely with the mask, relax for 30 minutes and then wash your hair as usual.
Beat the Build Up with Apple Cider Vinegar
Apple cider vinegar is great for giving your hair some shine according to Tata Harper Skincare. Used in association with argan oil you can create a treatment that uses the vinegar to remove any product buildup and then adds moisture through the argan oil which is full of vitamin E. Apple Cider can also make hair less frizzy and give a smoother, conditioned look.
How to Make it: Take a blender and add half an avocado, 10 drops of rosemary essential oil, 2 tablespoons of argan oil and a tablespoon of apple cider vinegar. When all the ingredients have been completed blended apply it to dry hair. Work from the roots to the tip but avoid the scalp if your hair tends to be naturally oily. Wait for 15 minutes before rinsing and shampooing. If you follow this regime every month your hair will be free of product build-up and look amazing.
The magic of Eggs
Raw eggs provide a real boost to your hair. The yolk is full of moisturizing fats and protein and the white helps remove oil and bacteria. You can use these treatments regularly depending on your hair type. Whole egg treatments which are good for normal hair can be used monthly, while white only treatments to help with dryness can be used once every two weeks.
How to make it: Depending on your hair type choose either the whole egg (normal hair) or white only (dry or brittle hair). Blend the egg to make around half a cup of treatment then apply it to your hair. Hair should be clean and damp. Always use enough egg mixture to coat the entire scalp and the hair, adjusting the quantity if needed. Leave it on for a full 20 minutes.
When removing be sure to use cool water otherwise you could find that the egg 'cooks' and solidifies on the hair.
Banish dullness with dairy.
Your hair can become dull over time – styling products, outdoor activities and even air pollution can be the culprits. Thankfully dairy products can help to reverse this type of damage and make your hair shine. Use sour cream or yogurt for this hair treatment which uses the naturally occurring lactic acid to remove dirt and the milk fat to provide moisture to your hair. These work for any hair type but if you have curly hair try you may prefer to use the yogurt rather than the sour cream.
How to make it: With damp hair, massage in half a cup of either sour cream or plain yogurt. Leave for 20 minutes before rinsing with cool water. Shampoo hair as normal. Use this every other week to get great looking hair.
Banish itchy scalps forever!
In winter our scalp can often feel dry and itchy. Adding some lemon juice to some olive oil can fight the itch. Lemons are acidic which will get rid of any flaky skin. Once that is removed the olive oil works to give added moisture to the new skin below.
How to make it: Mix 2 tablespoons of lemon juice, olive oil and water. Make sure your scalp is damp and then massage it in, leaving it in place for 20 minutes. Rinse and shampoo as normal. Use every other week for the best results.
Bouncing with beer.
Beer, with its stock of B vitamins and yeast, will add bounce and body to your hair.
How to make it: You need to let the beer stand for a while before use to get rid of the fizz. After this mix it with one raw egg and a teaspoon of sunflower oil. Wash your hair and when it is damp you can apply the mixture, leave for 15 minutes and then rinse.
Another alternative is the dry hair method where you add the beer only to a spray bottle and spritz the hair. This allows the proteins to continue working on the hair as the liquid evaporates.
Use either of these treatments every other week for best results.
Get sweet sensual locks with honey
Honey is amazing food and it is also great on dehydrated hair. Honey not only locks in moisture it attracts it. It can be a little sticky but it will work well whatever type of hair you have. Use once a month to get the best results.
How to make it: You need half a cup of honey which you can apply directly to damp hair. If you want to make it looser and easier to apply simply add a couple of tablespoons of olive oil. Leave the mask for 20 minutes then rinse your hair with warm water. If your hair is very damaged try adding avocado or egg yolk to take advantage of the extra proteins and oils they contain and to replenish the hair's keratin.
Get rid of grease with cornmeal.
Cornmeal can be used to remove oil from your hair and the iron it contains can also help hair cell growth.
How to make it: You need a salt, pepper or similar shaker. Simply place 1 tablespoon of the cornmeal/cornstarch inside and sprinkle the contents over your dry hair. Leave time for the oil to be absorbed – about 10 minutes – then brush the hair using a paddle hairbrush until the cornmeal is completely removed. Use every other day to see results.